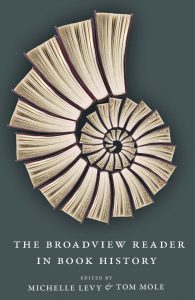 The Broadview Reader in Book History
Peterborough, ON: Broadview Press, 2014
Read more on the publisher's website
Purchase from Amazon.co.uk (affiliate link)
Edited by Michelle Levy and Tom Mole
"A varied collection that demonstrates the conceptual reach as well as the disciplinary range of book history. Particularly timely is the editors' emphasis on connecting the history of the book to cognate fields such as media studies and digital humanities."
Leah Price, Harvard University
"Though the essays in The Broadview Reader in Book History, along with the appended glossary, timeline, and bibliography, effectively cover the breadth and depth of book history, they do not aim to provide a history of that movement. Rather, what sets this collection apart from others like it is the editors' emphasis on theory and new media, which makes it an ideal guide to the state of the art at the moment and to the paths that may be open for the future."
H. J. Jackson, University of Toronto

What's in the book?
Book History has emerged as one of the most exciting new interdisciplinary fields of study in the humanities. By focusing on the production, circulation and reception of the book in all its forms, it has transformed the study of history, literature and culture. The Broadview Reader in Book History includes 33 of the key essays about the history of the book from some of the leading figures in the field. We've organized them into five sections: Materiality, Textuality, Printing and Reading, Intermediality and Remediating. Overall, it's the most complete and up-to-date introduction available to this area of study.
Anything else?
Yes. We've written a headnote for each essay and provided explanatory footnotes that make clear obscure words and references. We've also written an introduction to the volume as a whole, and included a chronology of book history and a glossary of key terms used by historians of the book, as well as a guide to further reading. Taken together this editorial apparatus adds significant value to the reader, making it the most user-friendly way for advanced undergraduates and graduate students to discover book history for the first time.
What topics are covered?
Rather than trying to include everything, we've focused particularly on the history of the book in Europe and America since the European invention of printing. We've included essays that show how book history intersects with textual scholarship and editing, digital humanities and media studies. We've selected essays that are sensitive to issues of race and gender in book history. And we've included some essays that help readers to engage with recent debates about the future of the book.
Who should read this book?
The reader is aimed at advanced undergraduates and graduate students encountering book history for the first time; instructors who are thinking about assigning the book can order inspection copies here. More generally, the reader is ideal for anyone who wants a one-volume, fully annotated guide to how the field of book history has taken shape, and what are some of the paths it might follow in the future.