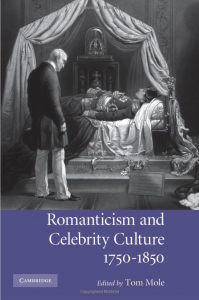 Romanticism and Celebrity Culture, 1750-1850
Cambridge: Cambridge University Press, 2009
Read more on the publisher's website
Purchase from Amazon.com
Purchase from Amazon.co.uk (affiliate link)
Now in paperback
Contributors:
Tom Mole, Jason Goldsmith, David Higgins, Richard Salmon, Benjamin Walton, Peter Briggs, Heather McPherson, Clara Tuite, Linda Zionkowski, Cheryl Wanko, Corin Throsby, Judith Pascoe
"The essays in this book make a convincing case for the sorrows of celebrity, as well as its alleged charms, in the pre-photographic, pre-cinematic age."
"This volume is clearly a valuable study of the history of celebrity, but its essays also highlight significant moments in the broader histories of print media, theatre, the public sphere, and modern subjectivity. By shining a limelight on this history of celebrity, the volume serves to show how celebrity is increasingly making its presence justifiably felt in broader literary, performance, and cultural histories."
"Mole's collection of well-written essays is an indispensable supplement to the numerous histories of and companions to Romanticism. Correcting our image of the Romantic period as a time of diaphanous idealism, the contributors to Mole's book acquaint us with 'the other Romantics': the stars on the stages and in the boxing rings, the lions of the salons and the press and their fans elevating them like waves, leaves and clouds and letting them fall ruthlessly onto the thorns of life. And for all those who despair of the inflation of superstars in our post-modern age the book offers the consoling thought that we are closer to the Romantic age than we thought we were."
-Norbert Lennartz, Anglia, 124, pp. 174-77.
"[A]n engaging and timely collection that helps map an important emerging area of Romantic studies […] This volume certainly makes a strong case for the diversity and significance of celebrity culture in the Romantic period[.]"
-Eric Eisner,
RaVoN
, 57-58 (2010).
"This collection of twelve essays examines a period when 'celebrity' shifted from being something that you possessed to something you could be. […] the significance of this book is that it strikingly blends 'interdisciplinary breadth with historical specificity' by including essays on fashion, theatre, music, boxing, art, literature, and just being famous. […] The strength of this collection is in its diversity and in the fact that each essay presents new information and subjects. In some ways it is a fascinating commonplace book, diverse, rich, and full of memorable insights."
Why edit this collection of essays now?
This is the first volume of essays focussed specifically on the celebrity culture of the Romantic period in Britain. An increasing number of critics are starting to trace the origins of our modern celebrity culture to the Romantic period; it's an exciting new area of research that has the potential to change our understanding of both 'long Romanticism' and the cultural history of celebrity. In my first book, I used Byron as a way to think about that cultural apparatus. But celebrity was from the beginning a multi-media phenomenon whose cultural pervasiveness – in literature and the theatre, music and visual culture, fashion and boxing – overflows modern disciplinary boundaries and requires scholars with different kinds of expertise to collaborate.
In this collection, I bring together an international group of scholars working on literature, music, theatre, art and cultural history. Their essays combine interdisciplinary breadth with historical specificity. They assemble a diverse cast of subjects: authors, composers, painters, soldiers, actors, journalists, boxers, dandies, critics, commonplacers, wannabes and fans. But they all focus on a historical period that, we contend, witnessed a slow, diffuse, but significant shift in the nature of fame.
What's in the volume?
You can see the full table of contents here. The collection has four sections. In the first section, Jason Goldsmith, David Higgins and Richard Salmon examine some of the discourses and practices from which celebrity emerged, and in relation to which it was defined. Rather than discussing particular individuals, they examine the material and discursive conditions of possibility that produced a recognisably modern celebrity culture.
In the second section, Benjamin Walton, Peter Briggs and Heather McPherson pursue celebrity into several different areas of cultural production, taking examples from music, sport and the theatre respectively. The case studies in this section suggest that, while each field generates its own form of celebrity, there are sufficient similarities between them to suggest that celebrity emerged more or less simultaneously in several cultural locations.
In the third section, Clara Tuite, Linda Zionkowski and I investigate the gendered nature of celebrity culture. Here we see the extent to which celebrity culture functioned to define and enforce gender norms, both male and female, whether the individual celebrities exemplified or transgressed those norms.
In the final section, Cheryl Wanko, Corin Throsby and Judith Pascoe turn to the audience which sustained celebrity culture. They show that celebrity's consumers were never simply passive recipients of cultural messages, but were active participants in the construction of celebrity culture, busily engaged in appropriating celebrity texts for their own purposes, and producing texts of their own in response.
Which celebrities do you discuss?
The collection reaches back as far as the 1720s and forward as far as the 1890s. Contributors consider the celebrity of the composer Rossini (and his admirers the King and Queen of the Sandwich Isles), the boxer Daniel Mendoza (and his opponent Richard Humphries), the actress Sarah Siddons (and her sister Ann Hatton), and the dandy 'Beau' Brummell (and his biographer Captain Jesse). They discuss the eighteenth-century writers Savage, Pope and Johnson, the Romantic poets Coleridge, Byron, Wordsworth, Clare, Mary Robinson and James Hogg, as well as lesser-known figures such as Thomas Busby and Robert Montgomery, and the nineteenth-century authors Edward Bulwer Lytton, Henry Chorley and Henry James. Not to mention the fans who made them stars, including theatre audiences, poetry readers and keepers of commonplace books.
What do you hope the book will achieve?
As a whole, the volume consolidates the advances already made in this field, argues for the importance of celebrity culture to an understanding of this period, and aims to set the terms of debate for the future. Tracing connections between celebrity and the period's discourses of heroism, genius, nationalism, patronage and gender, these essays map the contours of a cultural apparatus that many of the period's central figures became implicated in, even as they sought to distance themselves from it.